Fleeces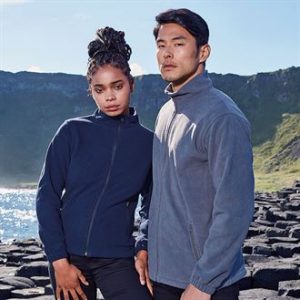 Full-Zip Fleeces, perfect for those cold winter months whether you're out working on the building site or doing door-to-door sales to drum up some new business. Regardless of the use, you want your workforce to represent your company as best as you can, and there's no better way to do that than having them kitted out in the best of gear. It might also be a good idea to have your company logo embroidered on the front to really push your brand and increase exposure.
SPECS
Fabric: 100% Polyester anti-pill fleece
Weight: 280gsm
Size: XS (36″), S (38″), M (41″), L (44″), XL (46″), 2XL (48″), 3XL (50″)
---
Softshell Jackets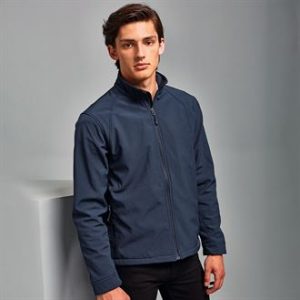 Whether you're managing a site or even out on the streets as PR staff, softshell jackets are always a good shout when you're looking to present your company with a smart and corporate look. The shell is woven from 100% polyester and bonded to a 100% polyester microfleece lining with polyurethane membrane, allowing them to be used regardless of the hail, sleet or snow! They look great when you've got your company's logo printed onto the front and even better when it's an embroidered logo – we're just saying.
SPECS
Fabric: 100% polyester woven shell & microfleece lining, polyurethane membrane
Weight: 320gsm
Size: S (38″), M (41″), L (44″), XL (46″), 2XL (48″), 3XL (50″)
---
Aprons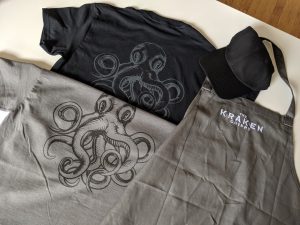 Kitchen aprons that are ideal for any restaurant, café and even the aspiring artist. Made with 100% heavyweight pre-shrunk cotton, you can be sure your aprons will withstand anything your chef's team or front of house staff can throw at it. With One-Size-Fits-All, you won't need to worry about customising orders for different members of staff, unless you'd like their names printed/embroidered on them as well… just a thought.
SPECS
Fabric: 100% Pre-shrunk cotton twill
Weight: 240gsm
Size: One size (Width 60cm, Length 87cm)
---
Screen Printing
Screen printing is perfect if you are wanting to make a statement and can be achieved on a wide variety of different garments although cotton is the best suited. This is the most popular printing method for customisation on t shirts/hoodies because of the overall high quality and long-lasting finish. We recommend using this method for bulk orders of 20+ due to the amount of ink required during the printing process, the process involves creating a 'screen' of your design/logo and pushing through the ink on to the desired garment of choice.
Costs
Setup Charge: £30 per screen
Print Cost: from £3 + garment cost
---
Logo Embroidery
If you are looking for that professional, high quality and long-lasting branding we would highly recommend going for our embroidery services. This service is perfect for giving your company that clean and professional finish allowing you to stand out or if you are looking for customisation to add that personal touch to a garment, we will help you out. It can be achieved on most of the garments we offer and if you prefer you can even bring in your own garments which some of our clients do.
Costs
Setup Charge: £25 per logo
Embroidery Charge: Varies on stitch count